Musical Talent in the Works of Foreign Researchers
Keywords:
foreign researchers, musical talent, musical abilities, musicality development, musicality, property
Abstract
Object. The article analyzes the theoretical approaches of foreign researchers to the definition of musical talent. Empirical material devoted to the study of the determinants of the manifestation of musical talent in foreign music psychology and pedagogy is substantiated and concretized. Research methods (analytical, historical and comparative, retrospective, comparative analysis of scientific and pedagogical literature, educational materials) allowed to distinguish different approaches
to understanding the significance of the development of musical abilities (M. Shawen, R. MuellerFreinfels, M. Hassler, U. Mursell, B. Probst and others). Results. It is determined that at the beginning of the twentieth century in Western musical psychological and pedagogical works outlined two approaches to the essence of musicality: musicality as a holistic property of the individual; musicality as a category of personality ability. It is established that in the foreign scientific literature there are
several approaches to the problem of identifying musical abilities. The first approach is that musical talent consists of a number of components that are assessed by tests separately. The second approach is to test the ability to perceive classical musical forms. It is established that the perfection of a musician is largely determined by the presence of innate inclinations to musical activity. It is proved that the development of musical talent has a direct relationship between the level of development of
musical abilities and external socio-pedagogical factors. At the same time, natural data and specially organized classes complement each other, and professional music training helps a person to reach his full potential. Conclusions. In foreign music psychology and pedagogy, a large amount of empirical material has been accumulated, devoted to the study of the determinants of the manifestation of musical talent. However, the question of the structure of musical talent and its components remains open. At the theoretical level, the issues of the relationship between the concepts of «musical abilities»,
«musical talent», «musicality» remain unsolved.
Downloads
Download data is not yet available.
References
Вильсон, Г. (2001). Психология артистической деятельности: таланты и поклонники. Москва: Когито-Центр. 384 с.
Бурменський, Г.В., Слуцкий, В.М. (ред.). (1991). Одарённые дети. Москва: Прогресс. 376 с.
Олексюк, О.М. (2006). Музична педагогіка: навчальний посібник. Київ: КНУКіМ. 188 с.
Davidson, J.W., Howe, M.J., Moore, D.G., & Sloboda, J.A. (1996). The role of parental influences in the development of musical performance. British Journal of Developmental Psychology.
Kurth, E. (1931). Music-psychologie. Berlin.
Manturzewska, M. (1978). Psychology in the Music School. Psychology of Music. (vol.6). 36-47.
Revesz, G. (1925). The psychology of a musical prodigy, Kegan Paul, Trench & Trubner. New York.
Seashore, C. (1938). The Psychology of Musical Talent. New York: Silver Burdett.
Нelmholtz, H. (1863). Die Lehre von den Tenempfindungen als physiologische Grundlage fur die Theorie der Music. Braunschweig.
Vidor, D. (1926). Was ist musikalisch. Berlin.
Weliek, A. (1963). Musik Psychology und Musikasthetik. Frankfurt am Main.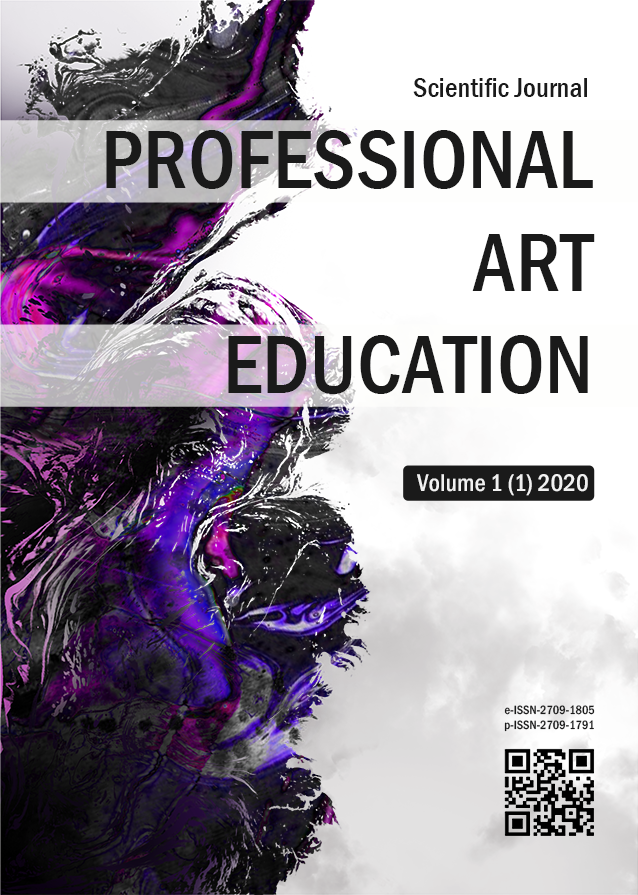 Downloads
License
Copyright (c) 2020 Poluboyaryna Irina
This work is licensed under a Creative Commons Attribution-NonCommercial 4.0 International License.