Choral Genre and Style in the Context of the Modern Art Studies
Keywords:
choral performance, genre, style, krainian choral culture, choral music, art studies
Abstract
Object. The purpose of this article is to systematize art schools in relation to the definitions of choral genre and choral style. Methods. Traditional research methods: comparative analysis of scientific and musicological literature, analytical, historical, retrospective have been used. Results. Choral performance, as a part of the professional musical art, has evolved with the general principles of the development of the professional art in general. For many centuries certain norms have been developed in the choral performance practice. They corresponded to aesthetic ideas about the vocal sound quality. Approaches to the performance manner have been improved, the basic principles of professional training of choral singers have been approved. Of course, each national choral school has its own features in the performance style which reflects the temperament of the people, their character, traditions and other qualities. These subtle nuances that characterize the performance style are primarily associated with the peculiarities of the language of different peoples, its phonetics. For example, stable vocal traditions have been developed in the musical cultures of Italy, France, Germany, Bulgaria, Hungary, Poland, Ukraine, Russia and other countries. However, in the XXth century, the trend towards eclecticism, the synthesis of cultural traditions, their interaction were so strong that the features which previously sharply distinguished one national school from another largely smoothed out. Therefore, the basic principles of vocal skills, which are to develop proper singing breathing, sound production, sound production and other vocal techniques, remain common to any choir. Conclusions. The great artistic possibilities of a unique musical "instrument" – a choir have been in the center of composers' attention for several centuries. In addition, the great variety of forms of the professional choral performance has made it one of the most common types of musical art.
Downloads
Download data is not yet available.
References
Батовська, О.М. (2019). Сучасне академічне хорове мистецтво a cappella як системний музично-виконавський феномен. (Дис. докт. миств.-ва). : ОДМА ім. А.В.Нежданової, Одеса, 516.
Бермес, І.Л. (2016). Рефлексії про сутність поняття «хор» у просторі культури. Вісник Національної академії керівних кадрів культури і мистецтв. № 4, 57-61.
Бондар, Є. М. (2005). Надекспресивне інтонування в контексті сучасної хорової творчості :автореф. дис. на здобуття наук. ступеня канд. мистецтвознав. [спец.] 17.00.02 «Музичне мистецтво» / Одес. держ. муз. акад. ім. А. В. Нежданової. Одеса. 16.
Григорьева, Г. В. (1991). Русская хоровая музыка 1970 80-х годов. Москва: Музыка, 80.
Гулеско, И. И. (1991). Хоровая литература : новые жанрово-стилевые процессы в хоровой музыке 60-80-х гг. : учеб. Пособие. Харьков : Харьк. гос. ин-т культуры, 90.
Дмитревський, Г. О. (1961). Хорознавство і керування хором : елементарний курс. Київ : Держ. видво образотв. мистец. і муз. літ, 96.
Егоров, А.А. (1939). Основы хорового письма. Ленинград-Москва: Искусство, 170.
Живов, В. Л. (2003). Хоровое исполнительство : теория, методика, практика : учеб. пособие. М. : Владос. 271.
Ковалик, П. А. (2010). Особливості використання сучасної української музики у фаховій підготовці диригента-хормейстера. Актуальні питання культурології : альманах наук. т-ва «Афіна» каф. культурології : у 2 т. Рівненський. держ. гуманит. ун-т. Рівне. Т. 2, вип. 10, 49 52.
Краснощеков, В. И. (1969). Вопросы хороведения : учеб. Пособие. Москва: Музыка, 300.
Кузнецов, Ю. М. (2009). Практическое хороведение : учеб. курс хороведения. М. : Супутник, 361.
Лащенко, А. П. (1989). Хоровая культура: аспекты изучения и развития. Киев : Муз.Україна, 134.
Мархлевський, А. Ц. (1986). Практичні основи роботи в хоровому класі. Київ : Муз. Україна, 96.
Назайкинский, Е.В. (1988). Звуковой мир музыки. Москва, 256.
Пархоменко, Л. О. (1979). Українська хорова п'єса: типологія, тематизм, композиція. Київ : Наук. Думка, 218.
Пигров, К. К. (1964). Руководство хором : учеб. пособие / под ред. К. Птицы. Москва: Музыка, 220.
Пучко, Ю (2007). Сучасна хорова музика: до питання інтерпретації. Київське музикознавство : зб. ст. [упоряд. Т. К. Гуменюк, С. В. Тишко]. Київ. Вип. 23, 184 192.
Романовский, Н. В. (2000). Хоровой словарь. Москва: Музыка, 231.
Рябуха, Т. М. (2017). Витоки та інтонаційні складові української пісенної естради. (Дис. канд. миствва). Харк. нац. унів. мист. ім. І.П. Котляревського, 203.
Соколов, В. Г. (1983). Работа с хором : учеб. пособие. 2-е изд., перераб. и доп. М. : Музыка, 192.
Скребков, С.С. (1973). Художественные принципы музыкальных стилей Москва: Музыка, 448.
Торба, О. В. (2002). Українська хорова творчість останньої третини ХХ ст. та проблема жанру. Наук. вісн. Нац. Муз. акад. України ім. П. І. Чайковського. Київ. Вип. 16, 278 296.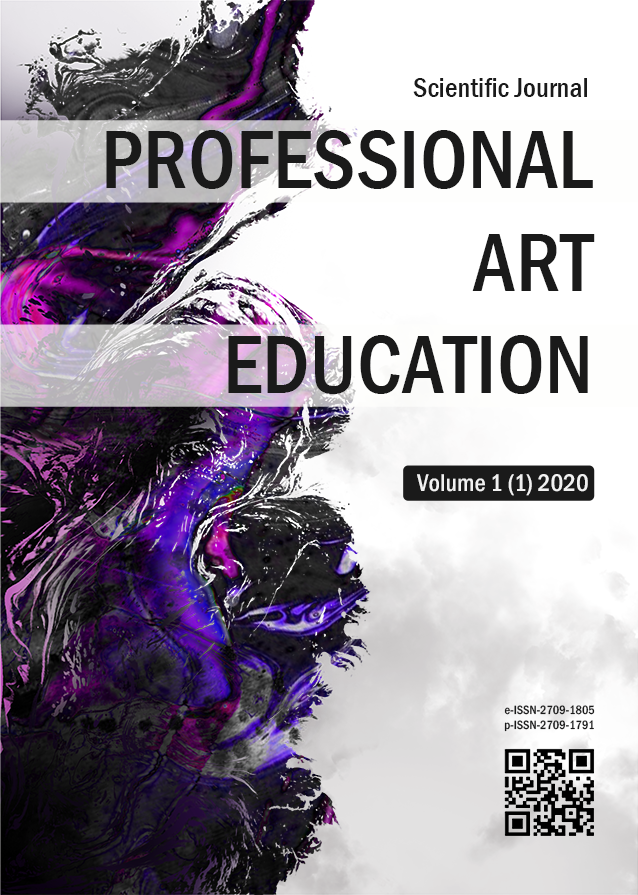 Downloads
License
Copyright (c) 2020 Dzivaltivskyi Maksim (Автор)
This work is licensed under a Creative Commons Attribution-NonCommercial 4.0 International License.